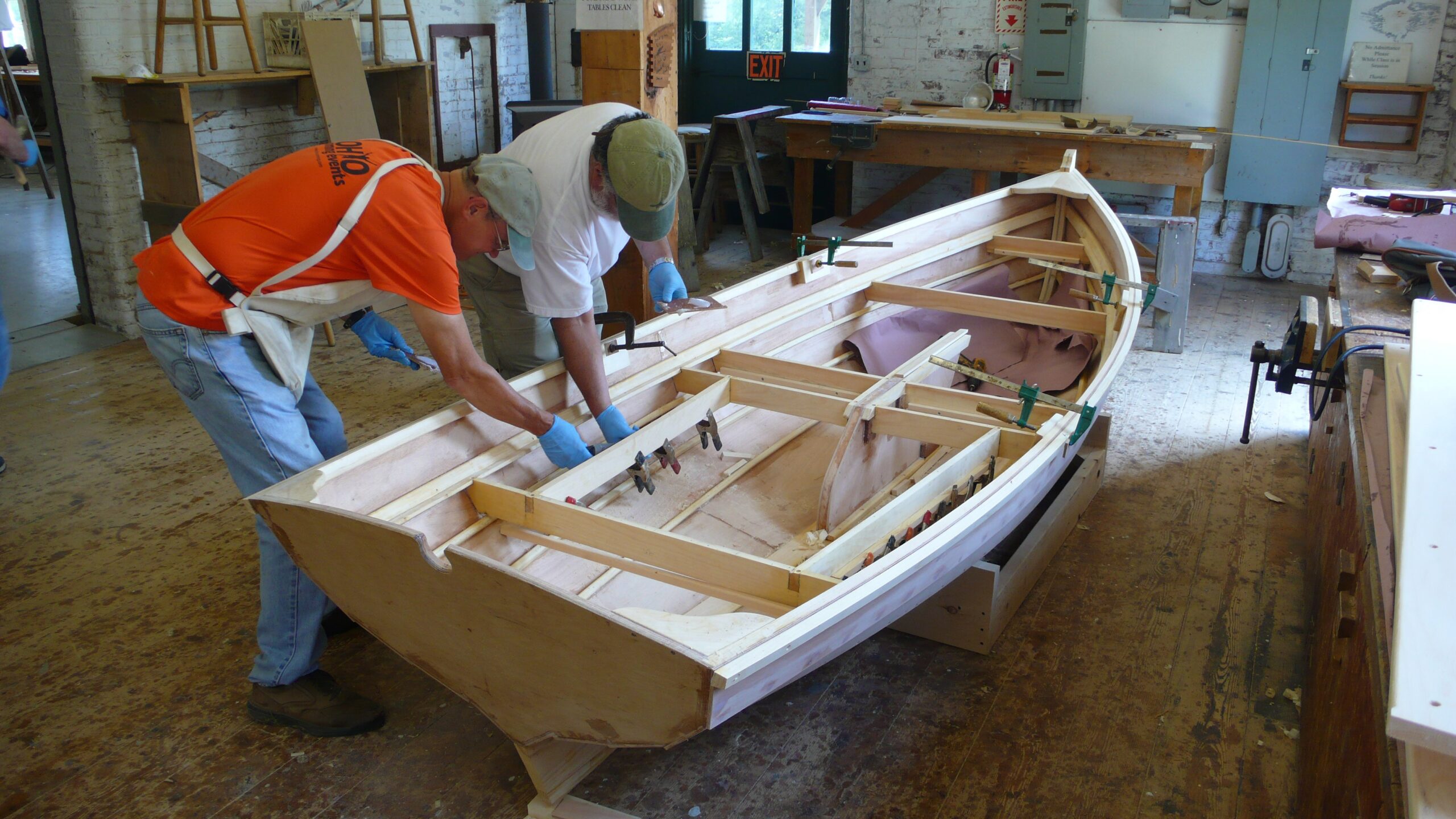 Boatbuilding
New
Building the Penobscot 13
Glued-lapstrake construction of a beautiful daysailer.
Dates

August 27 – September 9

Location

Brooklin, Maine

Tuition

$1600

Instructor

Experience Level

Activity Level
This is a two-week course ending Friday
Arch Davis and his lovely small-boat designs have been well known to the readers of WoodenBoat magazine for several years. We are very excited to welcome Arch back to our campus this season and invite you to spend two weeks with this innovative designer-builder constructing his design, the Penobscot 13.
In this course, students will build one or two of these fine-looking lapstrake daysailers. The Penobscot 13 is the little sister to two of Arch's most popular designs, the Penobscot 14 and 17. The 13 is smaller and lighter than the 14 but possesses comparable lines with similar characteristics under oar and sail. She features the same glued-lapstrake construction—with fore-and-aft stringers—that has proven so successful in the bigger Penobscots.
On the first morning, Arch will review the plans with students and explain how the Penobscot designs were developed. Students will then get busy setting up the station molds, stem, and transom on a simple strongback. All the stages of construction will be covered: fitting the keel, sheer clamps, and stringers; beveling and fairing; planking (including scarfing plank stock to length), and cutting gains. Once the hulls have been completed and turned over, you'll fit breasthooks, quarter knees, seats, and rails, and complete other finishing details.
These two weeks will be a comprehensive introduction to Arch Davis's unique method of glued-lapstrake construction, and will leave students well equipped to build a Penobscot 13 of their own, or one of the bigger Penobscot designs, or to tackle any other similar project. The course promises to be very rewarding to those participating and will bring plenty of satisfaction as these lovely craft come to life under their hands. Two very lucky students who win the raffle on the last day of class will each be taking home a very beautiful boat that will provide enjoyment for years to come.
Register Now
Who is this course best suited for?

This course is appropriate for students with some knowledge and experience.  Basic knowledge and use of hand tools is required for most shop courses.

This course involves a moderate level of activity throughout the week including: standing and working sometimes throughout the day, some hand planing or sanding, working on group projects that require occasional participation.
Access to experience
Register For This Course
Courses fill quickly, so don't delay if this is a course you want to take.
Register Now